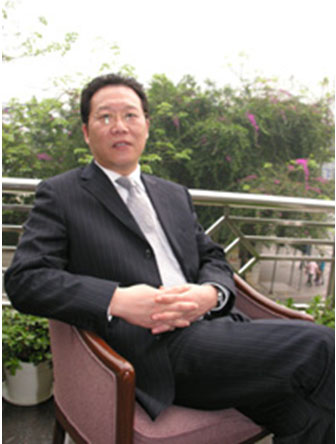 East Region Manager Gu Mingkun
In the company's correct leadership and strong support of the East China region to comprehensively improve the company's core competitiveness, the development of the region's economic activities for the mission to continue to play a leading role in the company's business mission. Since 2002, the East China region each year, the company's regional sales champion, success. This is a large district leaders and the Shanghai Area, Jiangsu Area colleagues to work together, the inevitable result of hard work.
Shanghai, China's largest commercial and financial center, located in the Yangtze River delta front, east of the vast East China Sea, west of affluent Jiangsu and Zhejiang, south of Hangzhou Bay, the northern boundary of magnificent Yangtze River estuary, geographic location. Area Region and Shanghai East China Office is located in this location, the existing staff of 38 safety and health, including 5 regional managers, Shanghai Area 33 employees, mainly to Shanghai Huangpu District, Luwan, Xuhui District, etc. 18 administrative districts and Chongming County an academic promotion and after-sales service and so on. Back to the current annual amount of more than 40 million yuan, the Olympic Area in Shanghai positive 65 million yuan sales target sprint!
Jiangsu, located in the eastern Yangtze River Delta, east Yellow Sea, southeast of Zhejiang, Shanghai, adjacent to the west, Anhui, Shandong, north. Water flooding old times, the land of plenty rich south. Area in Nanjing, capital of Jiangsu Province as the location of an agency Area, Area under the jurisdiction of the regional, including Nanjing, Suzhou, Wuxi, Changzhou, Nantong, Xuzhou, Huai'an, Yancheng, Lianyungang and other 13 prefecture-level cities and 27 county-level cities , Consists of 8 offices. Jiangsu Area 61 employees, including management of five patches, the Office of Management 8, 80% of college education. Back to the current annual amount of more than 40 million yuan this year, will confidently complete the task to the whole variety of goal!
Under the leadership of the company, East China region stick to the road of academic promotion, establish and improve a network of experts, the main agent of the company to promote a variety of clinical line of branded products, and the establishment of a more comprehensive classification of the training mechanism and step by step training courses for staff Ensure the construction of the echelon.
"Add vibrant east, towards a better future "is the common pursuit of the staff of East China. In the East, every employee has the opportunity to achieve the company initiated the "Three raising. "